Chris Pye's Biography
Carver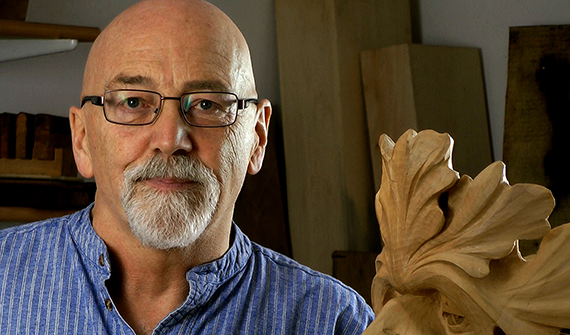 Chris Pye began woodcarving in 1975, originally studying under Master Woodcarver, Gino Masero. He is a member of the prestigious Master Carvers Association.
Most of Chris's work is commissioned. He has designed and carved across a very broad range of subjects and styles: from the traditional to the modern; from the photographically realistic to the utterly whimsical; from relief and ornamental carving to lettering and sculpture.
Read a biographical appreciation of Chris Pye by Woodcarving Magazine 2022, here.
Writer

Magazines. Chris has over a hundred articles, including tool and book reviews for magazines like Woodcarving (UK) and Woodcarving Illustrated (USA).
Books. Chris's books - with some translated into German, French, Spanish or Russian - include:
Woodcarving Tools, Materials, and Equipment (GMC Publications, 1995. Revised and Expanded, in two volumes, 2002)
Carving on Turning (GMC Publications, 1995)
Lettercarving in Wood (GMC Publications, 1997)
Relief Carving: A Practical Introduction (GMC Publications, 1998; Republished: Echo Point Books 2019)
Elements of Woodcarving (GMC Publications, 2000)
Woodcarving Projects and Techniques (GMC Publications, 2007)
Chris Pye's Woodcarving Course & Reference Manual (Fox Chapel Publishing, 2010)
Find out more about Chris's books here

Teacher
Classroom Instruction: Chris Pye has been teaching woodcarving to groups and individuals, from his home shop in England, for many years. He has also taught at West Dean College, near Chichester, UK.
Annually, from 1997 to 2011, Chris was been a faculty member at the Center for Furniture Craftsmanship in Rockport, Maine, USA, In 2010 he taught at Haystack Mountain School of Arts and Crafts, Deer Isle, Maine USA.
Web-based Instruction: In April 2011, Chris, with his wife and partner Carrie Camann, launched the online, video-rich, woodcarving instructional site: woodcarvingworkshops.tv
Find out more about Chris's teaching here
DVDs
Sharpening Techniques (American Craftsman Publications, 2007)
Essential Lettercarving Techniques (American Craftsman Publications, 2007)
Ornamental Carving (American Craftsman Publications, 2007)
Find out more about Chris's DVDs here
Toolmaker

Chris Pye has invented and re-designed many useful carving tools, of which several have been manufactured:
Flat # 2 ½ Gouges (with Ashley Iles Edge Tools Ltd)
Deep Undercutting Tools (with Ashley Iles Edge Tools Ltd) - shown right.
Innovative Woodcarvers Slipstones (with Norton Abrasive Ltd)
In 2010 Chris was involved in re-designing Auriou woodcarving tools for their re-launch, which happened in Summer 2011.