Chris Pye's Books
Chris Pye has written some of the best received and most influential woodcarving books to date. He wants you to learn clearly and explicitly the 'how' and the 'why' of woodcarving, to feel and understand wood, to work harmoniously with your carving tools and experience the joy of carving beautiful things.
For more details, head down the page to 'The Books'. But now...
Stop Press!
As of July 2019, all of Chris's book were out of print but some have now found a new, digital publisher:
Relief Carving in Wood
Lettercarving in Wood
Woodcarving Tools, Materials & Equipment - back in one complete volume!
You can get these books from the Echo Point Publishing; Barnes & Noble or Amazon.com (USA); or Amazon.co.uk or Classic Hand Tools (UK).
Free for subscribers to Woodcarving Workshops.tv, Chris has gathered together all the fish designs he used while teaching a course based on this book in Maine 1997 - 2013 to commemorate the republication. Get it here!
The Books:
When Chris writes, he talks to you directly. He imagines you are in the room, at his bench, and just tells you what's going on.
1. Woodcarving Tools, Materials, and Equipment, Volumes 1 & 2
Since the first edition was published in 1994, this classic book has established itself as the standard reference on woodcarving. In 2002 this book was expanded and divided logically into two volumes with new colour photography throughout. It should be required reading for all carvers.
Volume 1: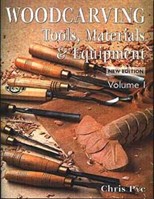 This first volume deals with the selection, sharpening and maintenance of woodcarving tools. Truly sharp edges are essential for effective carving, and Chris Pye's detailed instructions and clear illustrations show how the right results can be achieved every time.
Though the emphasis is on traditional chisels and gouges, Chris considers the use of power and ancillary tools, such as mallets; abrading tools, knives, punches and scratch stocks in detail.
Volume 2: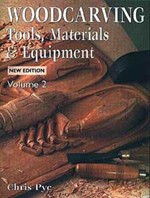 In this second volume, Chris covers many subjects of vital importance to the woodcarver, from the preparatory work of drawing and modelling to the many different finishes that can be applied to the completed carving.
Chris describes in detail methods of holding your work safely, with plans for several useful appliances that readers can make for themselves. There is also a section on wood itself, and how to make the most of its many contradictory qualities.
2. Carving on Turning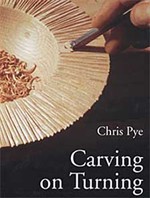 This book originally arose for a series of articles written by Chris in Woodturning magazine and as such was aimed more at turners.
However, 2 points: First, there is no such thing as "carving for turners". There is just the carving, and you can apply it to a curved surface as readily as a flat one. Second, this book contains a good overview of many basic carving techniques and can be studied for these alone, independent of turning.
Discover how simple decorative marks, through to advanced carving and shaping techniques, can enhance your turned objects and add an element of artistry.
3. Lettercarving in Wood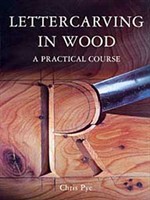 The first comprehensive guide to this subject to be published in a single volume. What makes this book truly different, and worthwhile, is that, at its heart, is a well-tried, structured course. Work through the progressive series of exercises and you will end with a strong grounding in lettercarving skills, in several styles of lettering.
Besides the fascination of lettering in its own right, there are the bonuses that such tool skills transfer to your other carving and are readily marketable.
4. Relief Carving: A Practical Introduction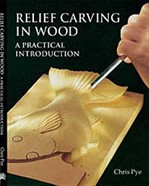 A carving tutorial. Rather than providing a large number of projects, Chris walks the reader through one design in detail. Introductory chapters on tools, design and techniques lead on to the process of carving in both low and high relief.
Each stage is illustrated with colour photographs and line drawings, and the book answers many of the questions that beginners may ask.
5. Elements of Woodcarving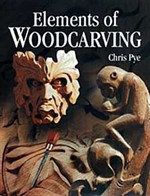 Chris has re-written the magazine articles on which this book is based and added new material for an entirely different and fresh context.
All questions and considerations about woodcarving fall into 3 three 'elements': design, material and technique. You'll gain a key to analysing your work and progress, and begin to carve more competently and with more confidence, through an increased awareness of these themes.
The ten projects in this book are lessons in the art and practice of woodcarving. In each case the whole process is described in detail, from the initial idea to the finished work.
6. Woodcarving Projects and Techniques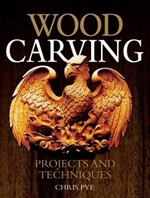 Chris compiled and rewrote these articles from Woodcarving magazine, reviewing the fundamentals of the craft and addressing carvers of all skill levels.
He guides you every step of the way, taking you through each project from concept to completion. Chris pays special attention to the V-tool, which suffers from a reputation for being difficult to use; instructs carvers on sharpening tools properly; choosing wood; applying a variety of finishes, and work with gold leaf.
7. Chris Pye's Woodcarving Course & Reference Manual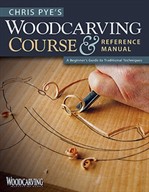 The first step into a new craft can be overwhelming: Where to start? What tools to buy? What projects to begin with? Chris Pye's guide is filled with everything a beginning woodcarver needs to know. You'll learn what to look for in a workbench, the importance of commissioning your carving tools - there's more to it than just sharpening! - and how to make exacting cuts and execute a variety of techniques. Chris includes practice exercises to make you comfortable with the tools and techniques so you can build your skills and carve with confidence.